Actions¶
Whenever something happens, what happens, are actions!
Actions are usually not alone, the is usually some list that has actions in a certain order to be executed.
How they work¶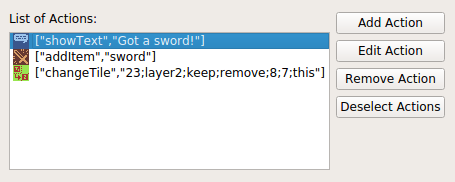 When you are offered to list actions, it means something happened, perhaps the player interacted with a Chara or an Event ("clicked"), perhaps he used an item, or something else. The list of actions is a recipe of what will happen.
Clicking Add Action with no action selected will insert the new action after the current list of actions. If any action is selected, clicking Add Action will insert the new action above the selected action.
Actions are read from top to bottom, they are then placed in a FIFO buffer. The IF action can interact with this buffer, which will change execution flow.
A list of actions will have the following format:
[[

"actionName"

,

"PARAM1;PARAM2;..."

],


 

[

"actionName"

,

"PARAM1;PARAM2;..."

],


 

...


 

[

"actionName"

,

"PARAM1;PARAM2;..."

]]



An example of a list of actions:
[[

"showText"

,

"Got a sword!"

],


 

[

"addItem"

,

"sword"

]]



The interface will provide a clean and easy way to create, edit, reorder and remove actions.